When planning SEO optimization for your website, the first thing to consider is content. It is also one of the highest priorities in SEO. Quality content is what attracts your audience, showcases your expertise, and engages users.
Creating authentic and valuable content is also crucial among the factors that influence website SEO optimization.
Whether it's blog articles, product pages, reviews, videos, or anything else you create for your audience, having the right content means you have a foundation to support all your other SEO efforts.
SEO content is content that is intended to rank in search engines (such as Google). Additionally, content written specifically for SEO is usually optimized for specific keywords. So when we talk about optimizing a website for search engines, don't forget: content is the foundation.
A website is created to fulfill its purpose. If it is a commercial resource, the ultimate goal is sales of products or services. If it is a non-commercial resource, the creators likely want the information they provide to reach as many recipients as possible. In any case, the successful achievement of a website's goals is directly linked to its traffic.
Increasing Website Traffic through SEO
One of the primary sources of traffic is organic search engine results, in simpler terms - traffic from search engines. To improve a website's positions in organic search results, search engine optimization (SEO) was created. Over the past decade and a half, the field of SEO has rapidly evolved, parallel to the advancement of search engine algorithms that index and rank all websites on the internet.
While SEO specialists previously had simple and effective tools at their disposal to influence positions through paid links, search algorithms now efficiently detect and combat various artificial promotion methods, aiming to make a website's usefulness to users the main factor of its success.
Optimized Texts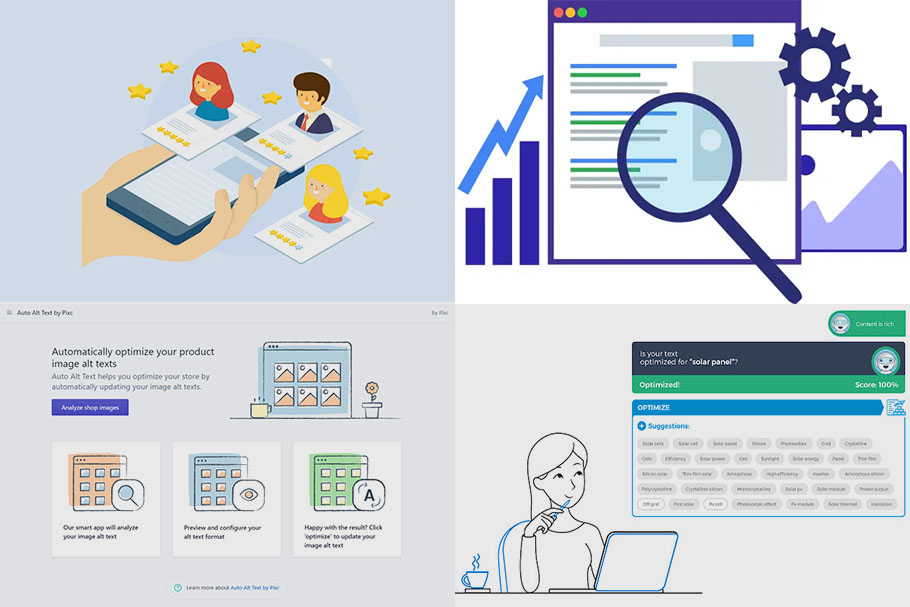 Writing texts for a website is not an easy task. After all, an article must use the required number of keywords while also being highly informative, accessible to the target audience, written in proper language, and readable. The size and uniqueness of the texts also play a significant role. Such meticulous work bears fruit: when a keyword is used in a search query, your article page will appear among the top ten results.
What is uniqueness?
It refers to articles that have no copies in search engines. In other words, the quality of copywriting is measured by the use of exclusive information that has not been previously published on the internet. Typically, unique content helps a website secure top positions in search engine rankings. Therefore, the task of writing optimized texts should be entrusted to professionals.
Website Content Development and Enhancement
In the strategy of developing and promoting a website, the focus is now on filling it with valuable content. Outdated approaches used to separate content creation from search engine optimization, requiring clients to individually search for content managers, copywriters, and SEO optimizers, often resulting in paying double or triple the costs without any guarantees of results. Managing such projects seemed to be a fable about a swan, a crayfish, and a pike.
That's precisely why UpSales web studio has developed and launched the "GoldMindDigital" service, which effectively solves the task of comprehensive website development. For new websites, we offer the "Sandpit" tariff, which allows for smart content filling in relatively small volumes but sufficient for the first months of the project's life. Search engines tend to be skeptical of young websites and don't immediately grant them high positions. Therefore, investing significant amounts of money at the initial stage is not necessary.
The main principle of content management is regularity and gradual volume increase. After the "Sandpit" phase, you can easily transition to the "GoldMindDigital" tariff. It includes creating a substantial amount of textual content aligned with the semantic core, interesting material relevant to the website's theme, meticulous internal optimization, and many other valuable tasks, which you can learn more about in the "Tariffs" section.
Why Choose GoldMindDigital for SEO Content?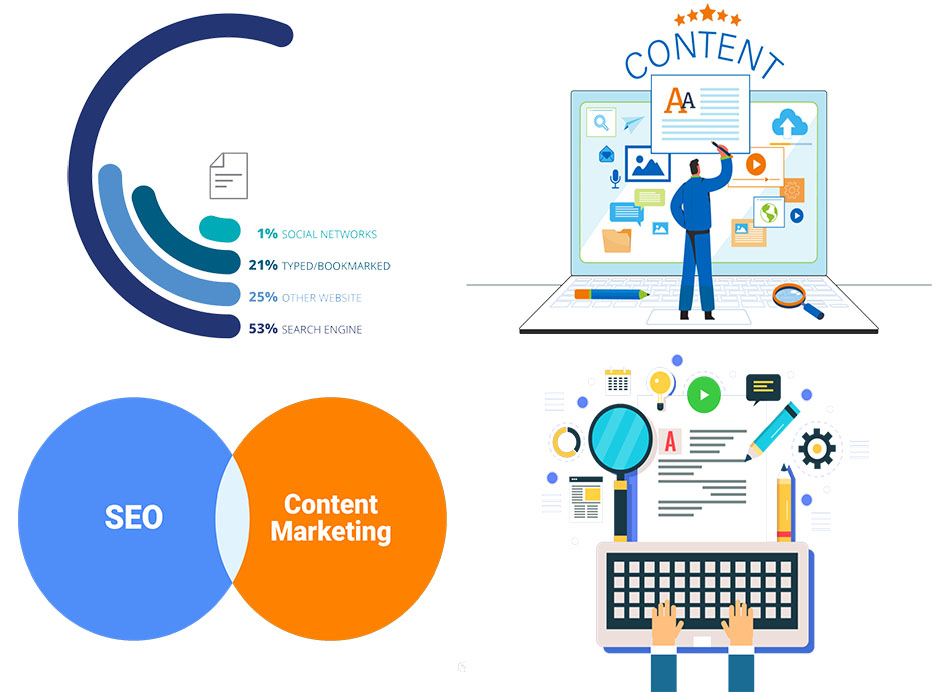 Attract Your Audience with Persuasive SEO Content The team of SEO content writers at GoldMindDigital strives to create the best SEO content for our clients. We will select the right keywords for your business or product that precisely match the queries of potential visitors, helping your website get discovered. Well-optimized SEO content will make your site stand out among countless competitors and improve its ranking in search engines.
Expand Your Audience Worldwide Our efforts in SEO content go beyond experienced SEO content writers. Our talented professional language-native translators will translate SEO content into 15 languages, ensuring it reads easily and naturally for your foreign audience. We will help you localize your website, enter the international market, and significantly expand your target audience. You can order both SEO content and its translation from us without the need to approach different agencies.
Our SEO Content Will Boost Your Sales High-quality SEO content will enhance your website's ranking in search engines.
More new customers will find your site, leading to increased sales. By choosing GoldMindDigital, you will receive the best SEO content at affordable prices, maximizing the benefits of collaborating with us within your business plan.